McDoodles Boot Camp - Four Week Program
Price $2,600.00
Program Goal
The four week stay is one of our most popular training packages and works well for the majority of families that want a good solid start to their puppy's training. All of the items listed in the two week program have been well learned including some additional higher level skills. We teach the basics the first 2 weeks, then we do a lot of reinforcing for the next 2 weeks. Consistency once the puppy is home is the key to this program.
Who Should Attend
For those individuals that work outside of the home and are only able to come home to let the puppy out to potty or for busy families, especially with young children, this training program is the minimum recommendation. Puppies that have been through four weeks of training are more mature and have learned a great deal more patience. More socialization opportunities are provided to create a well rounded experience for your puppy such as swimming lessons (weather permitting) and short outings around town, car rides, etc.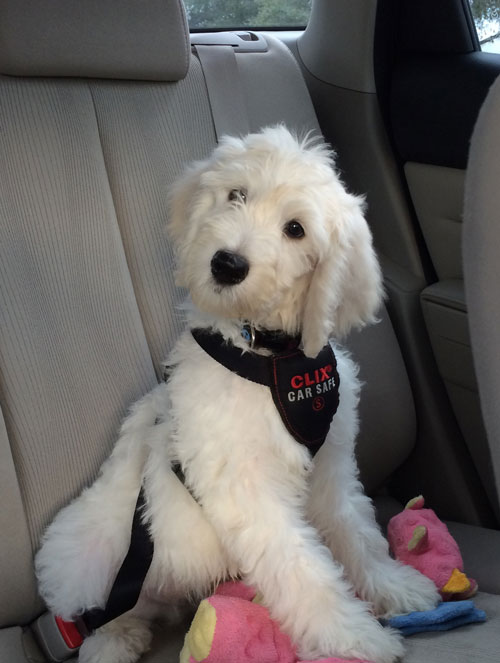 Program Description
In this program, commands and manners are becoming more solid and we have added "roll over" to their resume. They can successfully complete "sit," "down," "stay," "shake," and "roll over" from their trainer and anyone else who gives the command. We have added longer stays and small distances when putting them into a stay. Your puppy is having more and longer durations of supervised time between potty breaks.
Off leash time in the house - still supervised - is becoming much longer and their comprehension is increasing. We have created a great foundation at this point, so they are making better choices. We are continuing to reward them for their efforts so that they will continue to make progress. We are seeing many of the puppies going to the door and ringing their bell to be let out to potty on their own. They are not always consistent, so we are still reminding them and taking them out on schedule. They do have the concept of pottying outside.
Crate training at this point is very good. The puppy is on your schedule and taking 2 naps during the day in the crate. We are seeing the puppy make the connection between his good behavior and his rewards. The puppy is needing fewer reminders at this stage. The key is always repetition and positive reinforcement. We are still supervising and treating every interaction throughout the day as a training opportunity.
Puppies completing four weeks of boot camp will have a stronger, more solid understanding of appropriate behavior and know what is expected of them. They have a better understanding of their toys versus chewing on a chair leg or shoe. Problems such as jumping up, mouthing (puppy nipping), chewing, etc. will be worked on and usually pretty well under control at the end of this four week period. The puppy still requires supervision at all times - especially when in a new place, so that he can be redirected if he makes a mistake.
Potty Training Started:
Puppies enrolled in the four week program will be in the mastering phase of the potty training process. They are beginning to understand manners and what is expected of them. They will require a great deal of attention to continue the potty training in your home. You will be reinforcing all the manners, boundaries, commands and rules we have been working on with them daily. Please keep in mind that it is not possible for a puppy to be 100% reliably house-trained until the puppy has matured which is usually between the ages of six to eight months. If you desire a 100% house trained puppy with little or no work on your part, you need to consider a much longer Boot Camp Stay. By following the schedule we send home, with our 4-week program, you can expect minimal accidents once the initial transition period of three to five days has passed.
Commands mastered:
Puppies in our 4 week program know their sit, down, stay, shake, roll over, and coming to their name commands.
Teaching words mastered:
Puppies in our 4 week program know "Good", "Off", "Okay" "Att Att" and "Leave It".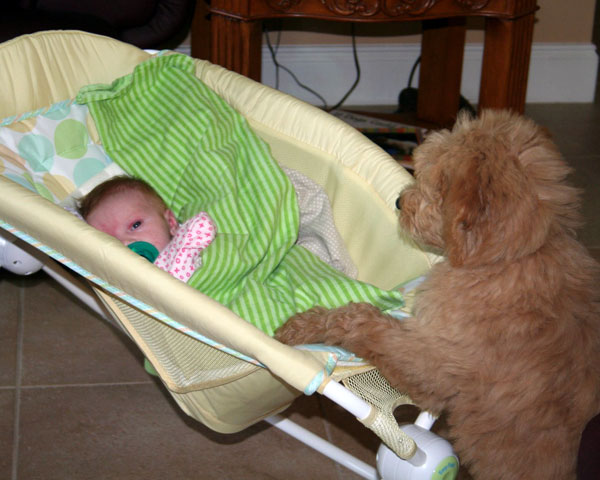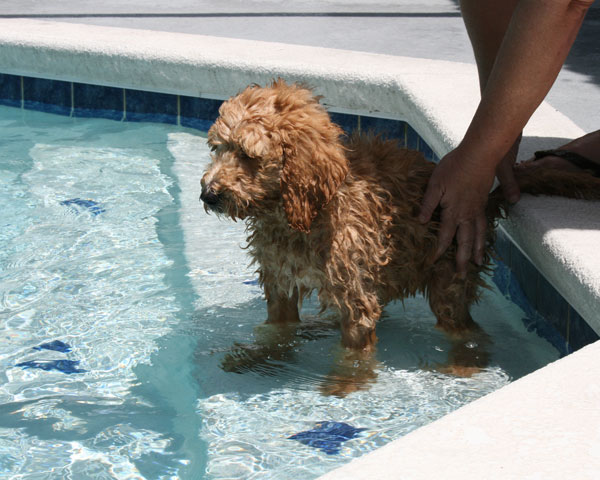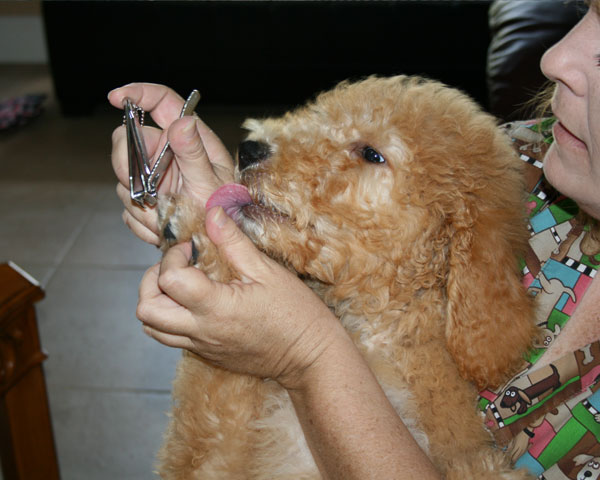 The Puppy's Developmental Stage
SOCIALIZATION PERIOD (7 - 12 WEEKS) AND FIRST FEAR IMPRINT PERIOD (8-11 WEEKS)
"LASTING IMPACT, RAPID LEARNING"
Dogs that are denied socialization during this critical period often become unpredictable because they are fearful or aggressive. It is during this time, that your dog needs to have positive experiences. They need to be introduced to new things and begin the groundwork to becoming a happy, well-adjusted dog.
BEGINNING AT 7 WEEKS OF AGE, WHAT IS GOING ON:
The puppy has a short attention span.
Things the puppy learns are permanent and are resistant to change.
The puppy is eager to learn!
What he does and learns now, he will do as an adult.
The puppy's temperament and personality are more apparent.
The puppy will be transitioning his education from his mother to his human environment.
BEGINNING AT 8 WEEKS AND ENDING AT APPROXIMATELY 11 WEEKS OF AGE, WHAT IS GOING ON:
Any negative or fearful experience will have a lasting impact.
How Boot Camp uses this to our benefit:
We gently introduce the puppy to new environments and people, allowing his natural curiosity to overcome his fear.
We teach the puppy that new experiences are opportunities to have fun. We involve toys, and treats, and affection to help motivate him.
We are patient with the puppy and allow him to adjust at his own pace. We never become frustrated or push the puppy into a fearful situations.
We are protective of the puppies and we never allow others to push the puppy beyond their comfort level or to be forceful with them.
We are calm, confident and secure leaders who are comforting for the puppy to learn from.
We teach the puppy that his family is there to protect and lead him. It is safe and rewarding for him to follow directions.

Program Details
Your puppy will receive around the clock, 24 hours / 7 days a week, care while in our Boot Camp program.
At 8 weeks old when your puppy goes to boot camp, he will receive his first months heartworm preventative and flea control. We will document this date on your puppy's shot record.
Your puppy's 12 week heartworm preventative and flea control will be given or sent home with you depending on age.
At 11 weeks your puppy will receive age appropriate vaccinations and fecal test.
Your puppy will live in the home of your assigned trainer.
Your puppy will be past the initial adjustment period of being away from the litter.
Your puppy will be on a schedule of eating, drinking, and going potty to make house training much easier. You will receive a copy of this schedule before your puppy comes home.
Your puppy will be introduced to bell training and taught to ring their poochie bells to alert you they need to go out to potty.
Your puppy will be crate trained. Meaning, in most cases, your puppy can hold his/her potty and remain quiet overnight and for a few hours during the day.
Your puppy will know these key teaching words "GOOD", "OFF", "OKAY" "ATT ATT" and "LEAVE IT" to aid in communication.
Problems such as jumping up, mouthing (puppy nipping), chewing and off will be worked on and usually pretty well under control at the end of the two weeks.
Your puppy will be familiar with taking treats and following commands.
Your puppy will be accustomed to wearing a collar and leash. Many new puppy owners don't realize how important this is in the training process. It does not come natural to a puppy. It must be taught before the puppy can progress to the next phase of training.
Your puppy will be introduced to, and be comfortable with, the training obedience commands of knowing his name, "SIT", "DOWN" "STAY", "SHAKE," "ROLL OVER," and "COME."
Your puppy will be taught to walk into his crate willingly for a treat when you tell him to "go to bed."
Your puppy will be asked to sit and wait before coming out of his crate. His impulse control is growing and he is able to wait a bit longer.
Your puppy will be taught to sit and wait while you attach the leash. He is developing more patience and can generally sit and wait as long as you move quickly.
Your puppy will be asked to sit and wait while you set his bowls on the floor. His patience is growing and he can consistently wait.
Your puppy will be transitioned from their litter to living with family.
Your puppy will be conditioned to be patient for basic grooming and maintenance. We give weekly baths, at least twice a week brushing, ear cleaning, nail trimming and teeth brushing.
Your puppy will receive socialization throughout the day with children and other household pets.
In the 4 week program your puppy will be taught to swim, weather permitting.
Your puppy will be introduced to and socialized with cats.
Communicating with your Trainer
When your puppy goes to boot camp, you will receive "I made it to boot camp" pictures.
1st week you will receive pictures and a progress report from your trainer.
2nd week you will receive a video and a progress report from your trainer.
3rd week you will receive pictures of your puppy and a progress report from your trainer.
4th week - before your puppy comes home, you will receive a video of your trainer and puppy showing off all of the commands learned in boot camp, riding in a car, walking on leash, socializing, etc. This video is something you can refer back to for training tips all throughout puppyhood.
Unlimited access to your trainer for any questions that you may have.
Moss Creek's Deluxe Boot Camp puppy go home bag. It includes the famous Moss Creek Goldendoodle canvas bag, nice collar and leash, extra toys, Starmark Bento Ball, 2 highly rated puppy books we recommend, Firm-Up, hollow sterilized bone or antler, bag of food, blanket that smells like your puppy's Mom, Poop bag container with bags, NuVet Vitamins, etc.