Boot Camp for Moss Creek Goldendoodle Puppies
McDoodles Boot Camp for Puppies is the original puppy training program. The first of its kind, our puppy course was developed years ago to enable families to experience the joy of bringing a puppy into their home even if they don't have the time or desire to commit to the intensive task of early puppyhood training.
We have successfully trained many Moss Creek Goldendoodle puppies for individuals and families all over the United States and overseas.
Our Boot Camp has been called the best early puppyhood training program by our satisfied customers, many of whom look to our services again with either a second doodle or by referring friends.
What makes our program superior to those who've copied our concept is our focus on individualized attention. We don't mass-train large numbers of puppies in assembly-like fashion, but concentrate instead on the quality of training.
Your puppy receives the kind of one-on-one training necessary to identify areas that need correction and redirection as well as solidifying learned skills.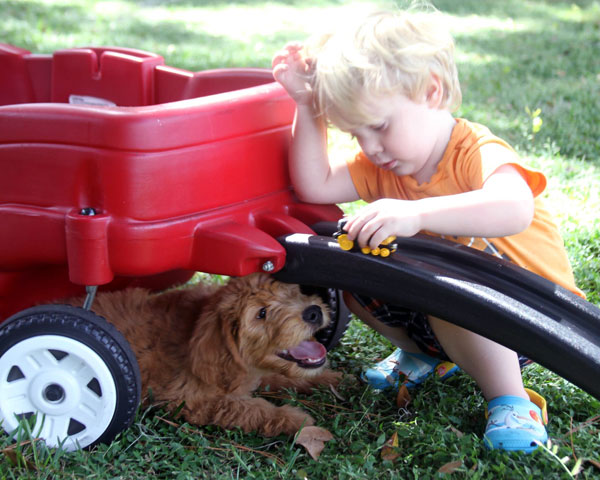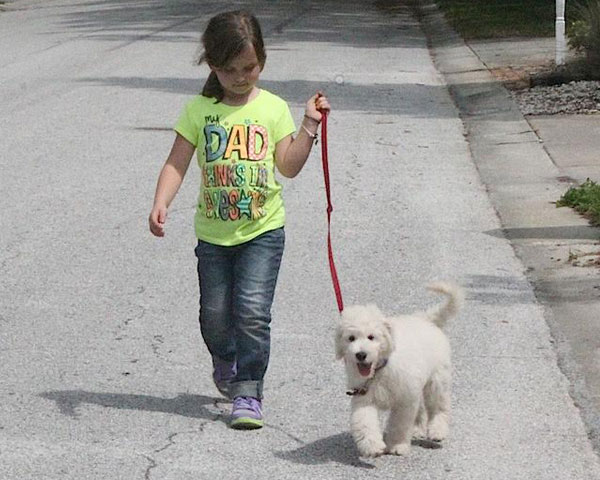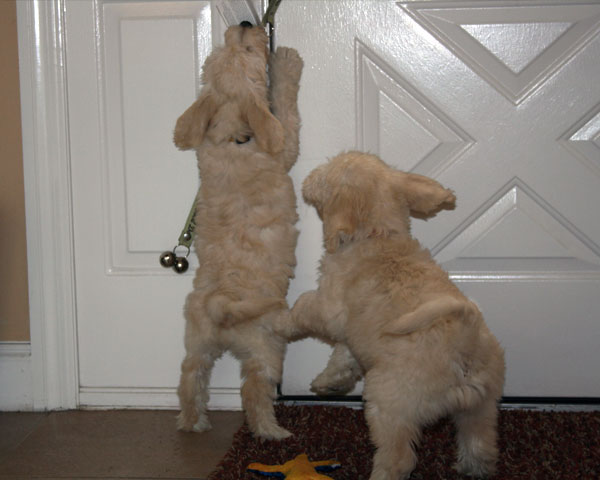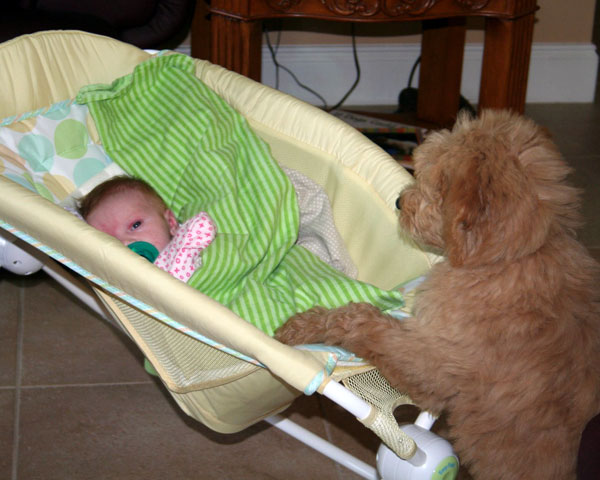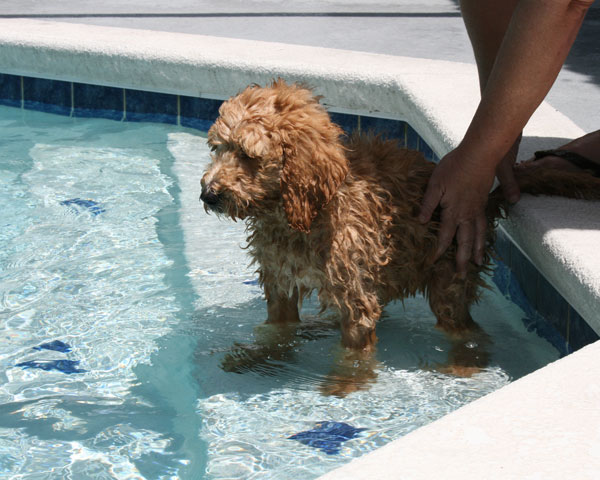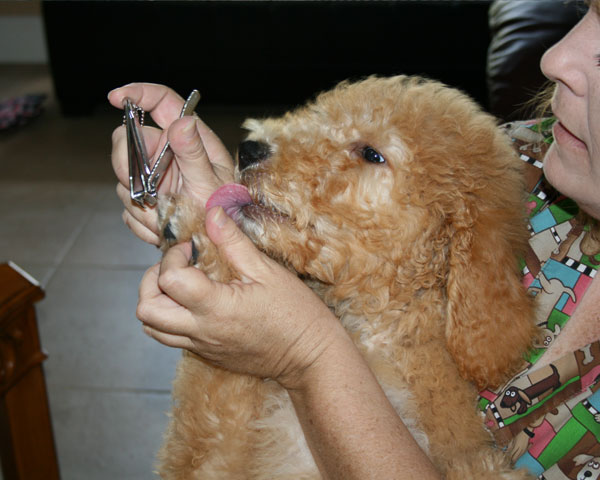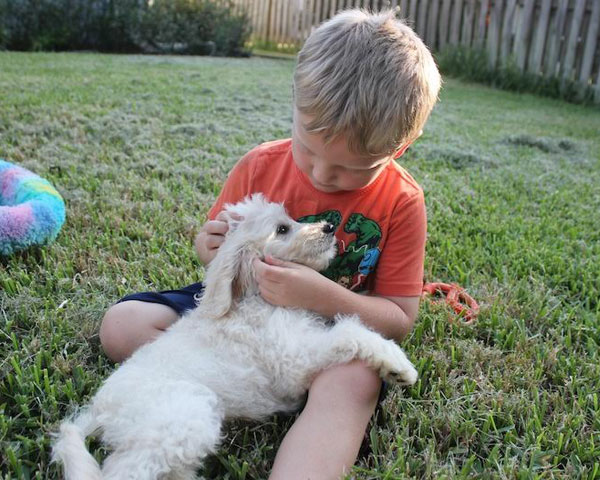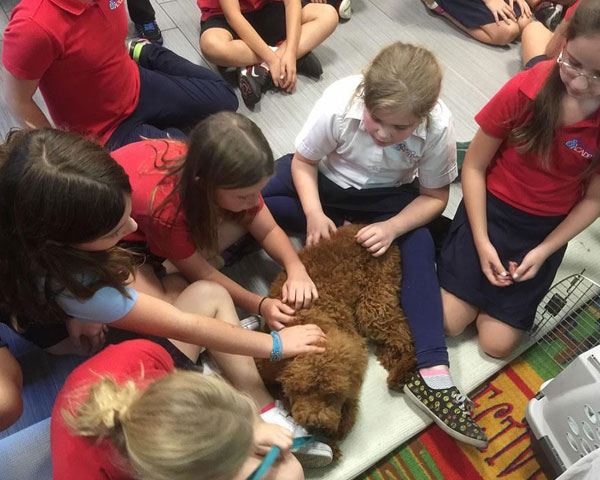 Unique Training for Family Environment
Our program was uniquely designed to help your puppy transition from its mom and littermates to a family environment. This includes showing your puppy where it's appropriate to potty, how to alert you when they need to potty, how to remain calm and play independently without constant attention. The puppy learns what acceptable interaction with people and their belongings are, and is put on a daily schedule to create structure and manageability. This early puppyhood training is very important in setting the tone for what is expected of the puppy. If this training is not done, the puppy quickly becomes out of control and difficult to live with. All of this training is done by integrating your puppy into our family where each member, children included is involved in the training, especially when it comes to manners. Depending on the training session you choose, your puppy will come home with full working knowledge of basic and intermediate commands such as "sit, down, wait, go out, go potty, no bite, off, leave it, okay, let's go" and so on. Other skills such as leash walking are also mastered.
Customized for Families with Children
If you have young children in your home, we will pay special attention to socializing the pup with our kids and neighborhood children. Above and beyond the usual activities, our children will hand feed your puppy, handle it during meal times, help with grooming, and leash walking. The puppy will learn to take commands from children, play without biting or jumping, and see them as being above them in the pack. Our kids are very assertive and consistent when interacting with the puppies. You will need to continue this with your children when the puppy comes home.
We offer many different programs to accommodate a variety of lifestyles. Boot Camp fees are $600/week with a two week minimum. Consider your goals, family needs, and the time and energy you are willing to commit to your new addition when reserving your puppy's training stay.

Two Week Stay: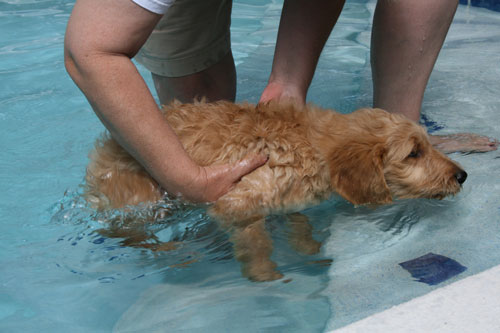 For those that are looking forward to working with their new puppy but want a little help getting started, the two week training session is for you.
This is our basic course and skills learned include getting your puppy accustomed to a daily crating routine that matches your schedule, potty training, introduction to loose leash walking, basic manners such as waiting patiently for meals, sitting for attention, learning not to jump or bark rudely, and the commands "no bite, leave it, and off" are introduced and enforced.
Puppies are still very much a baby at this age and will require a great deal of attention from you to continue their learning.
Four Week Stay:
For those individuals that work outside of the house all day or busy families, especially with young children, this training program is the minimum recommendation.
Puppies that have been through four weeks of training are calmer and have learned a great deal more patience.
All of the items listed in the two week course have been well learned including some additional higher level skills.
More socialization opportunities are provided to create a well rounded experience for your puppy such as swimming lessons and short outings around town.
The four week stay is our most popular training package and works well for the majority of families that want a good solid start to their puppy's training.
Six and Eight Week Stays:
This training program is optimum for families desiring a more polished training experience.
After puppies have completed this program they will arrive home with a firm grasp on all learned skills.
Our customers have found their puppies to be very easy to manage and continuance of skills learned is effortless enabling the pups to fit into a family with ease.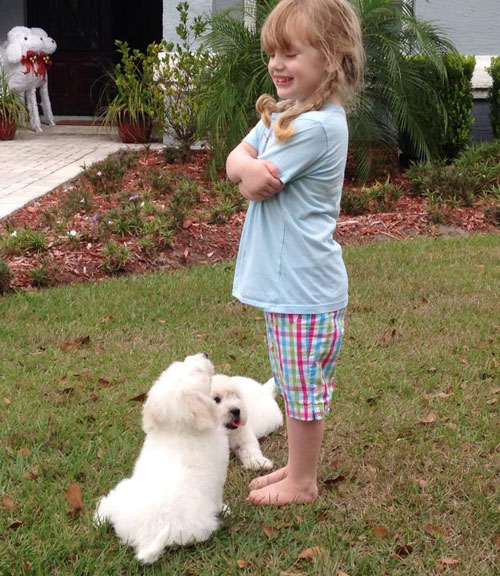 Weekly Updates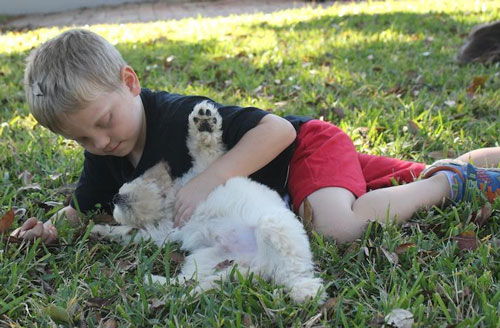 All families will receive weekly updates informing them of what their puppy has been learning, also included are pictures and/or video of your puppy.
During the last week of your puppy's training session, we will send you an Instruction Sheet detailing all we have been working on with your puppy as well as a listing of all commands.
A step by step daily schedule will also be provided to guide you through the day with your new family member and of course we are always available to assist you with any questions as they arise long after your puppy comes home. Call or email us anytime!
Boarding:
Due to popular demand we now offer on a limited basis, boarding for Boot Camp Alumni. If your travel or vacation plans don't include your Doodle we'll be happy to care for them while you're away. Instead of being locked in a kennel all day and learning to bark, your Doodle will be in a familiar home environment where all training and manners will be reinforced. Cost for boarding is $50/day and reservations should be made in advance to ensure availability.
McDoodles Boot Camp is an exclusive service offered to Moss Creek Goldendoodle owners only. If you would like to reserve space for your puppy in our program, please indicate this on the puppy application form or during your phone interview with Kelli. Once your puppy has been born, you will be referred to our training consultant.
Boot Camp Testimonials
Molly

Molly is doing so so well!! Also, I've got started with a trainer so that I can continue with the hard work you two have invested in her. He came to our house was so impressed!! He has been training dogs for 15 years and has an impeccable reputation. He said he has NEVER had a puppy who has had such a good start in life. As we talked and I told/showed him what you've done with Molly, he kept saying, "I love these people. These people did right by this dog. This trainer knows what he's doing. He's a great trainer." "Boot camp was worth every penny!" He was also thrilled I wanted to start in before there were any issues. He said he never gets that; people contact him after there's a problem. I figure you hear this all the time, but I found it so validating!! I knew from the MC community that you are the BEST!! Please pass this on to Charanun too! Your work is very appreciated and will be honored!

Julie C

Ollie

Tonight, Ollie was barking and trying to jump through the window in our sunroom. I opened the back door because I thought he was trying to chase a squirrel. Actually, he was frantic because Jacob went around the house and was out of his sight. We have had many people in our backyard lately for a project and the side gate was unlocked. Jacob was trying to get out of the gate. Ollie saved Jacob tonight!

I always thought their relationship was cute. Jacob puts his hands all up in Ollie's mouth, Ollie gets on his nerves, Jacob shares his dinner with Ollie ( so glad I can feed Ollie organic and expensive dietary foods), and Ollie is always eager to be with Jacob. Just thought I would share. Ollie is the best decision we ever made. And...my husband and I love him, too. He's just a little spoiled, but the most loving dog I've ever been around. Please do share with Kelli! I have recommended her to many, and have even had a lady stop me in our neighborhood and ask about Ollie. She had already talked with Kelli and I encouraged boot camp!

Lynn Y

Buster

I wanted to send a quick update to everyone...Buster is absolutely amazing! But you already knew that! Seriously though, we could not have asked for a more well-behaved, sweet, gentle, the list goes on and on...puppy. In 2 short days he's slept through the night in his crate, mastered the elevator and stairs to go potty (and acclimating back to his prescribed schedule), the city (sights sounds and smells), and...won our hearts. Thank you so so much for making us a part of the McDoodle family - we cannot thank you all enough for taking care and preparing our boy for life here in DC. We can't wait to make the trek back to Florida to attend the romp some day.

Will G

Sailor

We had a good ride home. Sailor slept in my lap the whole way. He has been great! We took him for three walks and he went potty each time. He loves his toys, especially the one in his Moss Creek bag. He happily plays with them by himself or with us. He has a bed under our salon table and has already learned to like that too. After he realized there was a destination for him at each end of the dock, the boat at one end and a walk on grass at the other, he gladly trots next to us. He sits so well for everything. He even sits without being asked because, I think, he figures sit means I get a treat. His favorite treat reward seems to be a piece of his kibble. What a cheap date!! We have the Zukes but so far he wants his kibble instead of that for a reward. A tradition with Daisy was to have her sit on the bench next to us to listen to the music at the restaurant by the marina. We did that last night and Sailor seemed very relaxed looking out at the water and enjoying the band. People walked by and could't believe how calm (and cute) he was. He was raring to go at 7 am and is on his walk with Mark now. He is so curious and there is a lot of new things to see. Thanks to all of you for the wonderful start you gave Sailor. He is happy, healthy, very smart and we love him.

Jan and Mark B

Chilli

It will be a month tomorrow since Ryan and I came to pick up Miss "Chiili Cheese Fries". Since she arrived, there has been so much joy, happiness, and laughter in our house. This puppy is truly perfect, and both Ryan and I know Chilli is perfect because of you guys. The 24/7 attention, care, guidance, and love have turned her into the sweetest bundle of fluff. We have kept up training her the core behaviors you guys instilled, and are on our way to "canine good citizen" and "therapy certified" through weekly classes near the house. I am just writing to say that I know you hear "thank yous" and "we love our puppy" and "boot camp was great" all the time, but you both really are amazing. It is so refreshing to meet those rare people in life that love what they do, are good at what they do, and truly care about doing it well. From the bottom of my heart Thank you:)

Erica K

Honey

Honey-Bear and Jenny are great friends. This is the most amazing dog I have ever known. She just surprises our family everyday with her doggy wisdom. She is so well behaved and at 8 months, has the manners and intelligence of a much older dog. As a side bonus, she alerts us when Jenny is going to have a seizure, Thank you for a fantastic family companion.

Honey began detecting seizures on her own at 8 months old. She lays her head on Jenny's lap and stares into her eyes, never moving her gaze. We are so proud of the team that Jenny and Honey have become, and their bond together. Honey now goes to college with Jenny in NY.

Evette H

Yankee

Just wanted to let you and Charanun know that Yankee is so special. My daughter rode in the backseat with him today and pet him without anyone asking her to. :) She is still a bit scared but she is getting there. I know Yankee knows He is amazing! Thank you both for doing your magic. :)

What a difference a few weeks make!! Tylar had a seizure on Friday and Yankee doesn't want to leave her side since! He is so, so smart. We love him so very much!

Tristi B

Darby

I have been meaning to write, but time flies by - just got back from a 10 day trip to Italy and Darby stayed with her brother Colby! Wish you could see the 3 siblings in action - it's like a circus, and we are so lucky to have them all so near so we can have play dates every few days, mostly with 2 at a time! Darby holds her own with the boys and we all love that they will grow up together - no need for dog parks! Took Darby for her last shots yesterday, and the vet said in all the years and hundreds of puppies he has seen, our 3 amigos are the best, most well-behaved, laid back he has ever seen - a credit to you and your operation! We were so blessed to have you and your beautiful children take such good care of our kids - they couldn't have had a better start, and we all sing your praises all the time. Many many thanks for all you did to make our lives easier.

Check out the Article about these three amazing puppies: Puppy Power

Marcia M

Lorna's Puppy

She's waiting for me to fix my coffee. Then we are outside and a bunch of crows were flying by. Lol. She is just wonderful and so loved we have our first vet visit today. I found a holistic vet not too far. I'm very happy about that. She rings the bells to go outside, so we have made great progress in only a week. Want to let Julie know how great she is doing. Thanks again for all.

Lorna

Kensington

Just wanted to check in and let you know how much we LOVE Kensington! She is just precious and really well behaved. Obviously she's a puppy and we're working on a few things but she already brings us so much joy! Not only is she cute but she has a great personality! Please share with Charanun and Heather as well. They did an amazing job!!!! We love Kensie!

Adrienne P

Shea

Shea has adjusted to her new home with such ease! No problems with our other two dogs! Our grandson and Shea are already best friends! She has had no accidents, is eating well and practicing all her commands. She slept in her crate all night with only a little protesting when we put her in. She is playful and cuddly! Thanks again for all you have done to give Shea such a great start!

Carol D

Autumn

Autumn had a great first day and night! She is the sweetest pup. She definitely likes her cuddles and snuggles and also plays well independently. We all love her!! She seems to feel like she's home already!!

Susette D

Riley

Riley is doing so well! Thanks for the tips on the growling. We started giving him treats when we were picking him up and that has almost totally eliminated the issue. He's using his bells really consistently to go outside and I think is more or less house broken with no accidents in the last 2 weeks. He still doesn't have run of the house, but he's consistent in the kitchen and family room areas he can access. He's also learning to fetch and loves it. Rocket was never a huge fan of fetch, but she enjoys chasing Riley when he fetches. We are beyond thrilled with our Mosscreek Doodles and Bootcamp! Thanks to all.

Wendy C

Pluto

I just wanted to drop a line to tell you how much my family and I love Pluto. He is such a sweet dog. we can't even remember life without him now! He has definitely adjusted well to his new family. He is very well behaved with a great temperament, he does everything he is supposed to (including the occasional doggy mischief) and he loves to play and have fun. It's really cute. We are just so happy that Pluto is our dog! Thanks again to you, April and the whole staff at Moss Creek. It was a great experience working with the team. I will refer friends in the future.

Emily D

Sadie

Sadie had a great day and and slept like a baby last night. We didn't hear a peep out of her! She's a little fearful of strange sounds and our two big dogs, but she's definitely fitting right in. She has 3 spots that she calls her own; her crate, her bed and the Koolaroo that she commandeered from Daisy. She keeps moving her toys from one spot to the other. She's very organized! She's eating like a piggy! She's doing great in the potty dept. and even went out for her last potty break in the thunder and lightning. The only thing that freaked her out was the umbrella!

Mary H